Projects
Set up company analyses and execute feasible action plans
There are two sorts of action plans, in agreement with the direction comity:
Strategic growth plan: for companies with a fast growth;
Feasible action plans: for improving companies with a slow growth.
Both kinds of plans are based on solid foundations with clearly marked priorities and hands-on, applicable actions in different fields of management and logistics.
Set up of Project analyses
In conjunction with the management (direction comity, or board of directors) and after developing feasible action plans, we can establish the project stages. A project analysis is required to elaborate a growth- or improvement plan, which will increase revenue and efficiency. In most cases, a close follow-up of these project analyses is required to prevent falling back into old habits.
You also have the option between simple management negotiations or a more intensive and target-achievement counselling.
Our speciality is to help SMEs grow in the most efficient way, according to the goals set by the owner. After a thorough analysis, we elaborate a feasible action plan and discuss the matter with the owner or CEO.
We also offer our services to Multinationals, mostly in specific fields suffering from shortage or for projects adding extra workload to the managers' tasks.
Thicega Projects & Consulting consults in various fields of management, such as general management, strategy, production, logistics, human resources, internationalization, succession, merger and acquisition, efficiency improvement, …
Managers often have good ideas but lack the time to execute them. Or the company has grown to a point where the presence of a specialist is needed, but only part-time or for a limited period of time. In this case, interim management is the answer to your needs. Extra specialities are often welcomed. For Thicega Projects & Consulting this means mostly strategy, finance, HR, production and logistics.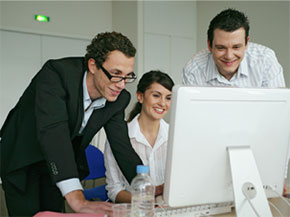 Management tracks
Specific result improvement schemes for Multinationals and SMEs in different fields
Management counselling for managers and entrepreneurs of international SMEs
Interim management voor multinationals and SMEs